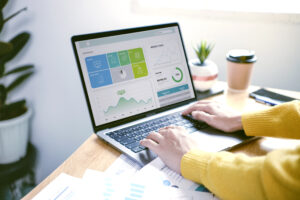 Whether you are an investor considering investing in rental properties or an established property management company, you must know the important role income and expense reports play in managing properties. Property management is a massive $99.45 billion industry with more than 326,000 registered companies operating just in the US in 2022. The only way to survive and thrive in this industry is that you continue to make gains on your investments.
Your Income and Expense Reports as Property Management Tools
A property generating rental income isn't necessarily a great investment. You must know how much of that income is actually making it to your pocket, which can only be done with the help of income and expense reports. Without them, you're probably basing your decisions on assumptions, which can be detrimental to your property management business.
If you look closely, you will realize that these reports tell you the 'performance' of your rental property. In return, you can decide whether to keep a certain property on your portfolio, get rid of it, or make certain changes to improve its performance. Here is how you can use your income and expense reports as an effective property management tool.

Gauging Future Investments
You can use your income and expense reports to gauge future real estate investments. For example, you have the actual-to-budget report to compare the expenses and income that a property generates to what you had anticipated. If you manage several properties, this report can indicate how off or accurate your anticipated expenses and gains are.
Knowing Time to Recoup Investment
A year-end income statement is a commonly used tool by many property managers. What makes it so important is that it is used in calculating the property's debt service coverage ratio and cap rate. These two metrics help you know how long it will take for you to recoup your investment in a property. As an FYI, a cap rate between 5% and 10% is considered good.
Avoiding conflict with the IRS
File your taxes with confidence based on accurate information and record keeping based on standard accounting principles. Income and expense reports are sometimes referred to as profit and loss or, shortly, P&L statements. An income report is a form that helps you identify your income and expenditures. Not having a record of your business might result in more income taxes and penalties that nobody wants.
Finding out the Problems
It's amazing how numbers on your expense and income reports can tell you about the issues with certain properties. For example, let's take a month-to-month income report. Of course, it itemizes not only your income but also your expenses every month. Now, it could reveal a trend with your properties or a certain property.
For example, you might see that property A's month-to-month report reveals elevating pest control expenses. Or perhaps, property B has been showing late fees quite frequently in the past 12 months. Both reports give you actionable information so you can do something before your properties start incurring losses.
Selling the Property Faster
A collection of these reports, especially a year-to-date report, can show potential buyers and investors how well your property is performing. You have to wait a year to generate the year-end report, but a YTD report can be generated anytime you want to show what kind of gains you've been making in the past 12 months.
The same report can also help you raise funds for acquiring a property if you are working as a real estate investment group (REIG). Now, if you manage a lot of properties and are always engaged in their sale and purchase, you can make the entire process convenient by using the iManageRent software. It's a perfect cloud-based property management tool for property managers and landlords.
The Key to Successful Property Management
The YOY rise of 13.4% in rent prices may give you the impression that real estate rentals are easy to invest in, but that's only true when you are organized with your work. Your finger must be on the pulse of your investments at all times, and you can do that by generating and reviewing several income and expense reports every month.
In Conclusion
Income and expense statements are essential documents that let business owners track the performance of their business and its financial health. They can help a small or large business flourish and avoid losses as they give insight to a company's owners, which is necessary for decision-making and business strategy.
If you're looking for an online property management software to help you keep track of income and expenses, why not look into iManageRent?
iManageRent provides landlords, property managers and tenants tools to better manage the life cycle of a rental property. From listing vacancies to background checks, online rent payments, late fee accounting, security deposit accounting, document storage, to much, much more… please feel free to join us today!
iManageRent is here to help answer any questions you may have about managing your rental. Our knowledgeable, experienced support staff is available 24-7 and can be contacted by phone at (415) 881-3311 or by email at Support@iManageRent.com anytime.
If you like to see our product in action please schedule a live one-on-one online demo by clicking here.