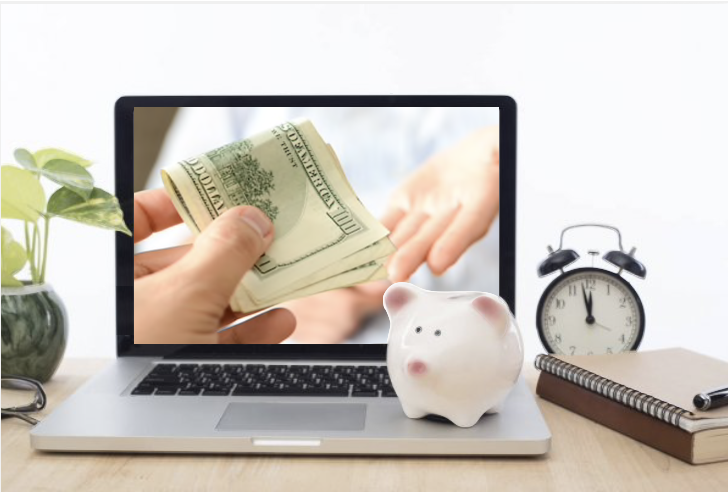 Information you need to know!
It goes without saying that collecting security deposits when leasing rental property is a must, but as a Real-estate professional working in the age of Covid19 collecting security deposits online is really the best option. 
Of course, before you start collecting security deposits, it is prudent to check your state's local landlord-tenant law. Some states set specific limits on the size of security deposits and other states do not (see state limits). Other factors to consider is how to hold and account for a security deposit. State laws vary throughout the country on how you can hold security deposits and you may or may not be required to keep the deposit in an interest-bearing account and provide the tenant any accrued interest upon return of their deposit in part or in whole (use our calculator). Many savvy Real-estate professionals also set up separate bank accounts specifically for security deposits to help with accounting. 
A security deposit and first month's rent are usually the first payments tenants make during the leasing process. The amount of the deposit and rental price should be clearly stated on any advertising for a vacancy and included in the application and lease agreement. The security deposit and first month's rent should be collected after signing the lease but before allowing tenants to take possession of the property. It is always best to collect these amounts separately (ie: separate checks, payments or receipts) as opposed to one lump sum to further distinguish the accounting for both payments. It is also a good practice to ensure that the funds are available in your bank account before turning over any keys and allowing the tenant to take occupancy of the property.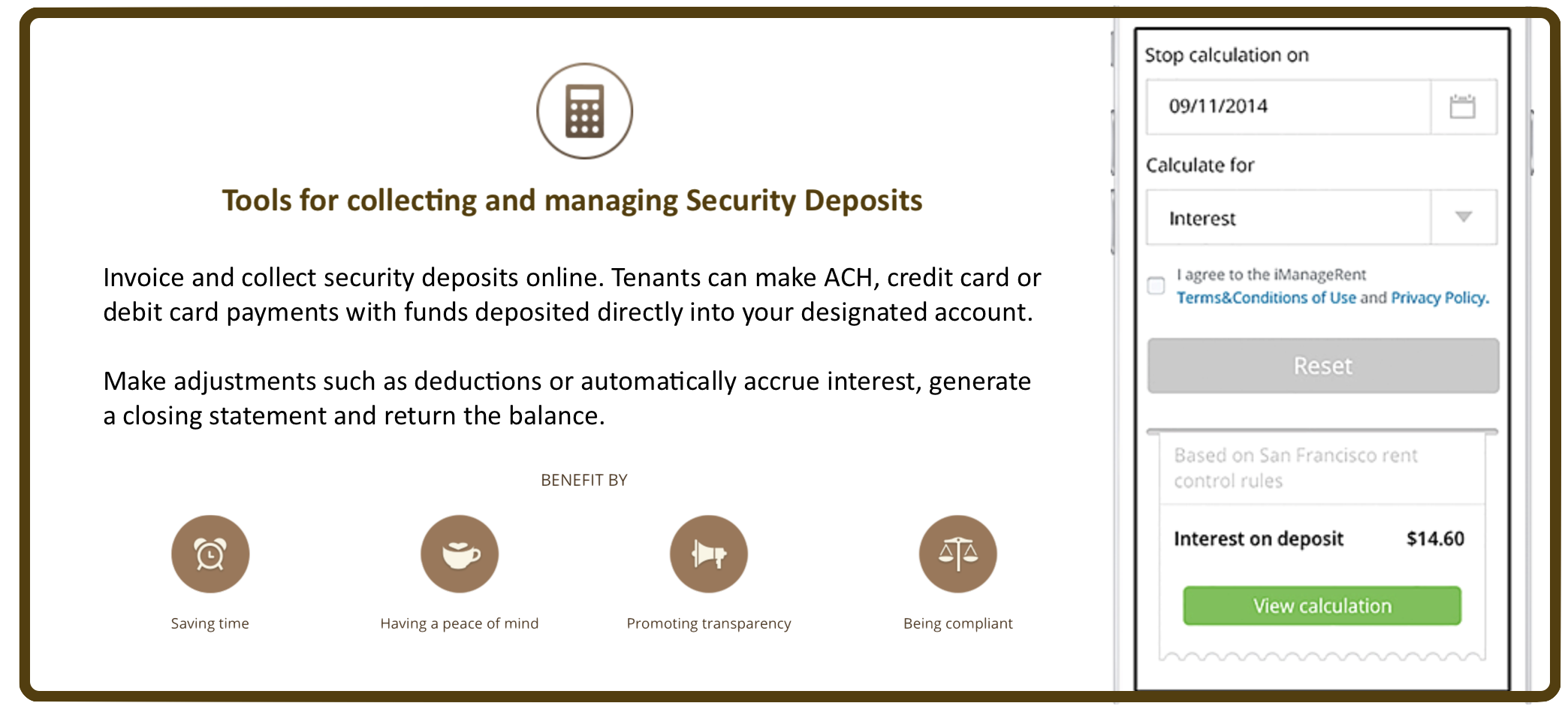 Collecting payments online is one way modern Real-estate professionals can streamline their business and most tenants now prefer the convenience of making payments online. iManageRent helps Real-estate professionals collect security deposits and rent seamlessly on our touchless platform, provides automated invoicing, interest rate calculation features and exportable accounting to make the process less time consuming and easier to track and manage.
The competitive advantage of using iManageRent to collect payments online:
Real-estate professionals can collect security deposits directly.

Tenants can pay with their debit card, credit card, or make ACH payments.

Prorated rent, late fees, interest rates, or other fees are calculated automatically.

iMR can send out automated reminders when payments are due.

Tenants can set up automatic recurring rent payments.

All payments are automatically recorded and the accounting data can be exported directly to Excel or Quickbooks etc. 
It is important to remember that security deposits do not become part of a property's income at the time of collection. The deposit is a financial guarantee that tenants surrender the rental property to a pre-occupancy condition, minus regular wear and tear, at the end of their term and under all stipulations outlined in their lease agreement.  When a tenant has fulfilled all provisions of the lease agreement, they are owed the return of the security deposit in full (plus any additional interest if applicable). Every State has its own specific landlord-tenant laws that dictate when and how to return security deposits but generally you are able to hold back the deposit wholly or in part because of these basic reasons: 
Nonpayment of rent or costs for utilities on the premises

Late fees (to the extent permitted by law).

Damage to the premises/ cleaning

Nonfulfillment of the rental agreement period/term

Unpaid bills that have become a lien on the premises

Costs of re-renting the premises after a breach of term by the tenant

Costs of removal and storage of tenant's property after summary ejectment;




Court costs etc. 
Make it transparent
Remember that as a Real-estate professional you cannot withhold portions or all of a security deposit just to cover normal wear and tear on the property. Determining what normal wear and tear is may be complicated, but should be spelled out as completely as possible in the least agreement. A best practice is to immediately upon surrender of the premises by the tenant take photographs of the property and any damage that may have occurred or areas that do not meet with the pre-occupancy condition of the property (such as cleaning). It is then prudent to compile and account for the damages along with estimates for repair or cleaning that will be removed from the deposits total. This information should then be shared with the former tenant. 
Any amount of the security deposit that is not returned must then be accounted for as income for the property. The property would show the unreturned deposit as gross rent income and then show the repairs, cleaning or billings as an expense. 
For example:
If the security deposit is $1,500.00 and $1,000.00 is returned to the tenant and $500.00 is held for repairs you would report an additional $500.00 in rental income for the unit and then $500.00 in repair expenses when accounting for the portion of the deposit that was not returned. 
Conclusion
Collecting and accounting for security deposits is an integral part of a Real-estate professionals' business. There are numerous benefits to using online tools such as those offered by iManageRent that can simplify collecting security deposits and rent payments while automatically accounting for those payments throughout a lease term. Consulting a lawyer and accountant for advice is also a fundamental part of the business as the laws surrounding security deposits and rent collection do widely differ throughout the country. 
iManageRent is here to help answer any questions you may have about collecting deposits and rent online. Our knowledgeable, experienced support staff is available 24-7 and can be contacted by phone at (415) 881-3311 or by email at Support@iManageRent.com anytime.
If you like to see our product in action please schedule a live one-on-one online demo by clicking here.